Fujifilm X-H2S Body Only Black
Rp39.999.000
GARANSI RESMI FUJIFILM INDONESIA
26.1MP APS-C X-Trans Stacked BSI Sensor
4K 120p, 6.2K 30p, FHD 240p 10-Bit Video
Internal ProRes 422 HQ and F-Log 2
7-Stop In-Body Image Stabilization
5.76m-Dot OLED Electronic Viewfinder
3″ 1.62m-Dot Vari-Angle Touchscreen LCD
40 fps E. Shutter, 15 fps Mech. Shutter
425-Pt. Hybrid AF, AI Subject Detection
ProRes & Blackmagic RAW via HDMI
CFexpress Type B & SD UHS-II Card Slots
Compare
Fujifilm X-H2S.
The Fujifilm X-H2S is a high powered, lightweight beast that proves it's worth in both videos & stills. Packed with a 26.1 Megapixel X-Trans5 Stacked BSI Imaging Sensor & 40 Frames per second in Electronic Shutter, capturing brilliant video in 4K/120P, 6.2K/30P, HD/240P. This rig, was built for everything.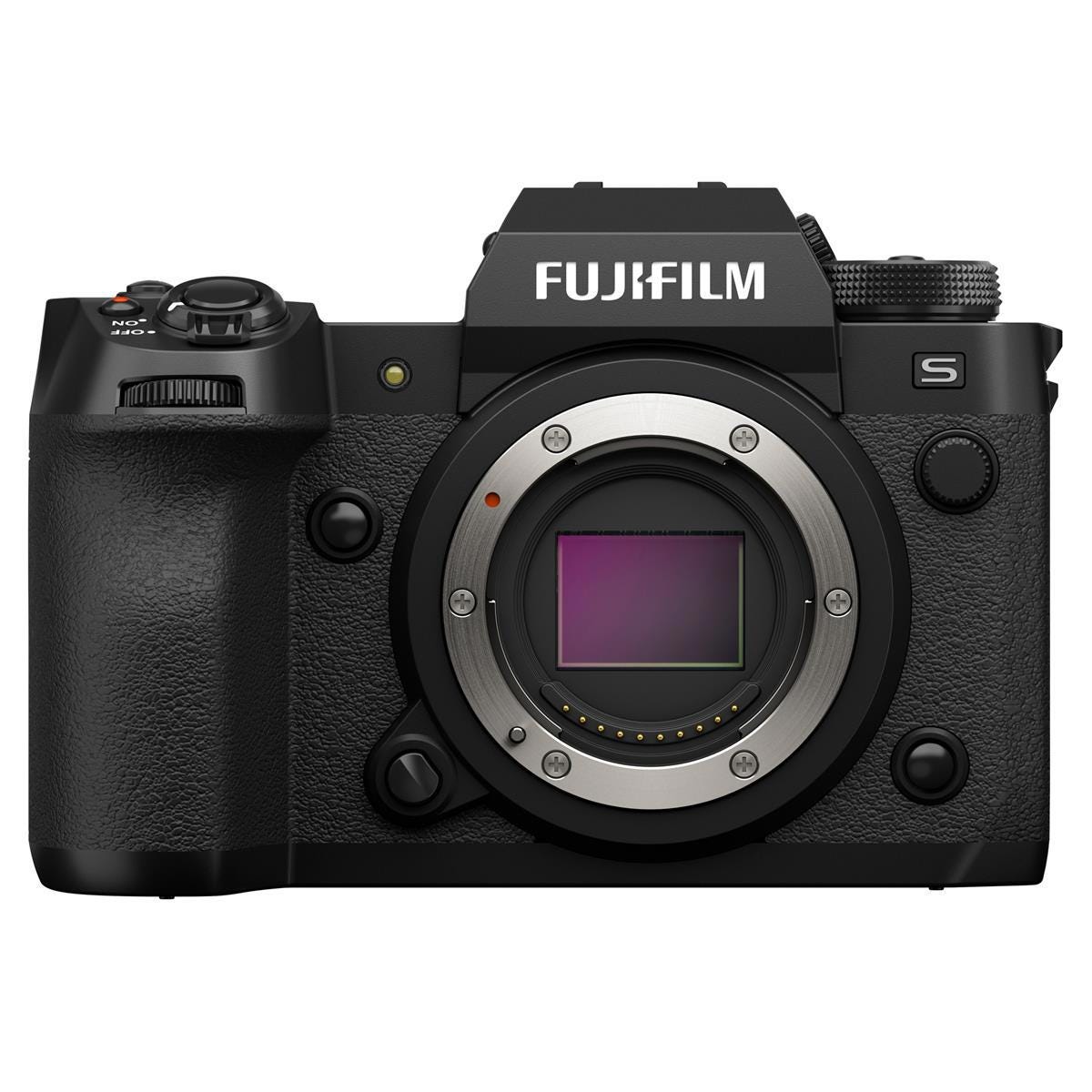 Unparalleled Image Quality
X-H2S is the first X Series camera to feature the 26.1-megapixel, X-Trans 5 stacked back-illuminated sensor. Building on the unique X-Trans color filter array that minimizes more and false colors, placing the sensor's circuitry on a separate layer from the pixels delivers outstanding image quality thanks to expanded low light capabilities and up to 14-stops of dynamic range.
Powerful and Creative Video
Up to 90 minutes of footage can be recorded internally at a wide range of resolutions and frame rates up to 6.2K/30P (in full-sensor 3:2 aspect ratio), 4K/120P, and Full HD/240P. This delivers unparalleled flexibility within the X Series lineup.
Unmatched Autofocus Performance
Autofocus system in X-H2S is quick. The new system has the ability to identify and track cars, planes, trains, motorcyclists, birds, horses, dogs, cats and more.
Never Miss a Moment
X-H2S delivers powerful performance, suitable for any professional photographer or filmmaker. Creative possibilities abound with by the camera's in-body image stabilization system, offering up to seven stops of shake reduction to give the handheld user true versatility.
Features
4K/120P, 6.2K/30P, HD/240P in Apple ProRes internally in 10-bit at 4:2:2, 14-stop Dynamic Range
High Speed AF – NEW Deep Learning AI Adaptive Autofocus Algorithm (subject detection)
Up to 7 Stops of IBIS, 15fps MS, 40fps ES, High-Capacity Buffer
Record ProRes RAW and Blackmagic RAW through HDMI using External Recorder
26.1MP X-Trans 5 Stacked BSI Sensor w/ X-Processor 5
Fujifilm X-H2S Features
26.1 Megapixel X-Trans5 Stacked BSI Imaging Sensor
40 Frames per second in Electronic Shutter
4K/120P, 6.2K/30P, HD/240P
Record Apple ProResHQ internally in 10-bit at 4:2:2
Newly created Flog2 encoding for greater dynamic range
External recording of ProRes Raw and Blackmagic Raw
Up to 7 stops of Internal Body Image Stabilization (IBIS)
Spesification
FUJIFILM X-H2S Specs
Imaging
| | |
| --- | --- |
| Lens Mount | FUJIFILM X |
| Sensor Resolution | Effective: 26.16 Megapixel (6240 x 4160) |
| Sensor Type | 23.5 x 15.6 mm (APS-C) CMOS |
| Crop Factor | 1.5x |
| Image Stabilization | Sensor-Shift, 5-Axis |
| Built-In ND Filter | None |
| Capture Type | Stills & Video |
Exposure Control
Shutter Type
Electronic Shutter, Mechanical Focal Plane Shutter
Shutter Speed
Mechanical Shutter
1/8000 to 900 Seconds
1/8000 to 4 Seconds in Program Mode
1/8000 to 30 Seconds in Aperture Priority Mode
Up to 60 Minutes in Bulb Mode
Electronic Front Curtain Shutter
1/8000 to 900 Seconds
1/8000 to 4 Seconds in Program Mode
1/8000 to 30 Seconds in Aperture Priority Mode
Up to 60 Minutes in Bulb Mode
Electronic Shutter
1/32000 to 900 Seconds
1/32000 to 4 Seconds in Program Mode
1/32000 to 30 Seconds in Aperture Priority Mode
Fixed 1 Second in Bulb Mode
1/8000 to 1/4 Second in Movie Mode
Bulb/Time Mode
Bulb Mode
ISO Sensitivity
Photo
160 to 12,800 in Manual, Auto Mode (Extended: 80 to 51,200)
Video
160 to 12,800 in Manual, Auto Mode (Extended: 160 to 25,600)
Metering Method
Average, Center-Weighted Average, Multi-Zone, Multiple, Spot
Exposure Modes
Aperture Priority, Manual, Program, Shutter Priority
Exposure Compensation
-5 to +5 EV (1/3 EV Steps)
White Balance
2500 to 10,000K
Presets: Auto, Daylight, Fluorescent, Incandescent, Shade, Underwater
Continuous Shooting
Mechanical Shutter
Up to 15 fps at 26.1 MP for Unlimited Frames (JPEG) / 1000 Frames (Raw)
Up to 10 fps at 26.1 MP for Unlimited Frames (JPEG) / Unlimited Frames (Raw)
Up to 8 fps at 26.1 MP for Unlimited Frames (JPEG) / Unlimited Frames (Raw)
Electronic Shutter
Up to 40 fps at 26.1 MP for up to 184 Frames (JPEG) / 140 Frames (Raw)
Up to 30 fps at 26.1 MP for Unlimited Frames (JPEG) / 180 Frames (Raw)
Up to 20 fps at 26.1 MP for Unlimited Frames (JPEG) / 800 Frames (Raw)
Up to 15 fps at 26.1 MP for Unlimited Frames (JPEG) / 1000 Frames (Raw)
Interval Recording
Yes
Self-Timer
2/10-Second Delay
Still Image Capture
Image Sizes
3:2 JPEG / Raw / TIFF
6240 x 4160
4416 x 2944
3120 x 2080
16:9 JPEG / Raw / TIFF
6240 x 3512
4416 x 2488
3120 x 1760
1:1 JPEG / Raw / TIFF
4160 x 4160
2944 x 2944
2080 x 2080
Aspect Ratio
1:1, 3:2, 4:3, 5:4, 7:6, 16:9, 65:24
Image File Format
HEIF, JPEG, Raw, TIFF
Bit Depth
14-Bit
Internal Video Capture
Recording Modes
H.265/MOV 4:2:2 10-Bit
6.2K (6240 x 4160) at 23.98p/24.00p/25p/29.97p [360 to 720 Mb/s]
DCI 4K (4096 x 2160) at 23.98p/24.00p/25p/29.97p/50p/59.94p/100p/119.88p [360 to 720 Mb/s]
UHD 4K (3840 x 2160) at 23.98p/24.00p/25p/29.97p/50p/59.94p/100p/119.88p [360 to 720 Mb/s]
DCI 2K (2048 x 1080) at 23.98p/24.00p/25p/29.97p/50p/59.94p/100p/119.88p/200p/239.76p [360 to 720 Mb/s]
Full HD (1920 x 1080) at 23.98p/24.00p/25p/29.97p/50p/59.94p/100p/119.88p/200p/239.76p [360 to 720 Mb/s]
H.265/MOV 4:2:0 10-Bit
6.2K (6240 x 4160) at 23.98p/24.00p/25p/29.97p [360 to 720 Mb/s]
DCI 4K (4096 x 2160) at 23.98p/24.00p/25p/29.97p/50p/59.94p [360 to 720 Mb/s]
UHD 4K (3840 x 2160) at 23.98p/24.00p/25p/29.97p/50p/59.94p [360 to 720 Mb/s]
DCI 2K (2048 x 1080) at 23.98p/24.00p/25p/29.97p/50p/59.94p [360 to 720 Mb/s]
Full HD (1920 x 1080) at 23.98p/24.00p/25p/29.97p/50p/59.94p [360 to 720 Mb/s]
H.265 Long GOP/MOV 4:2:2 10-Bit
6.2K (6240 x 4160) at 23.98p/24.00p/25p/29.97p [50 to 720 Mb/s]
DCI 4K (4096 x 2160) at 23.98p/24.00p/25p/29.97p/50p/59.94p [50 to 720 Mb/s]
UHD 4K (3840 x 2160) at 23.98p/24.00p/25p/29.97p/50p/59.94p [50 to 720 Mb/s]
DCI 2K (2048 x 1080) at 23.98p/24.00p/25p/29.97p/50p/59.94p [50 to 720 Mb/s]
Full HD (1920 x 1080) at 23.98p/24.00p/25p/29.97p/50p/59.94p [50 to 720 Mb/s]
H.265 Long GOP/MOV 4:2:0 10-Bit
6.2K (6240 x 4160) at 23.98p/24.00p/25p/29.97p [50 to 720 Mb/s]
DCI 4K (4096 x 2160) at 23.98p/24.00p/25p/29.97p/50p/59.94p [50 to 720 Mb/s]
UHD 4K (3840 x 2160) at 23.98p/24.00p/25p/29.97p/50p/59.94p [50 to 720 Mb/s]
DCI 2K (2048 x 1080) at 23.98p/24.00p/25p/29.97p/50p/59.94p [50 to 720 Mb/s]
Full HD (1920 x 1080) at 23.98p/24.00p/25p/29.97p/50p/59.94p [50 to 720 Mb/s]
MOV/ProRes 422 HQ 4:2:2 10-Bit
6.2K (6240 x 4160) at 23.98p/24.00p/25p/29.97p [2754 Mb/s]
DCI 4K (4096 x 2160) at 23.98p/24.00p/25p/29.97p/50p/59.94p [1877 Mb/s]
UHD 4K (3840 x 2160) at 23.98p/24.00p/25p/29.97p/50p/59.94p [1877 Mb/s]
DCI 2K (2048 x 1080) at 23.98p/24.00p/25p/29.97p/50p/59.94p [440 Mb/s]
Full HD (1920 x 1080) at 23.98p/24.00p/25p/29.97p/50p/59.94p [440 Mb/s]
MOV/ProRes 422 4:2:2 10-Bit
6.2K (6240 x 4160) at 29.97p [1840 Mb/s]
DCI 4K (4096 x 2160) at 23.98p/24.00p/25p/29.97p/50p/59.94p [1254 Mb/s]
UHD 4K (3840 x 2160) at 23.98p/24.00p/25p/29.97p/50p/59.94p [1254 Mb/s]
DCI 2K (2048 x 1080) at 23.98p/24.00p/25p/29.97p/50p/59.94p [294 Mb/s]
Full HD (1920 x 1080) at 23.98p/24.00p/25p/29.97p/50p/59.94p [294 Mb/s]
MOV/ProRes 422LT 4:2:2 10-Bit
6.2K (6240 x 4160) at 29.97p [1277 Mb/s]
DCI 4K (4096 x 2160) at 23.98p/24.00p/25p/29.97p/50p/59.94p [870 Mb/s]
UHD 4K (3840 x 2160) at 23.98p/24.00p/25p/29.97p/50p/59.94p [870 Mb/s]
DCI 2K (2048 x 1080) at 23.98p/24.00p/25p/29.97p/50p/59.94p [204 Mb/s]
Full HD (1920 x 1080) at 23.98p/24.00p/25p/29.97p/50p/59.94p [204 Mb/s]
H.264 ALL-Intra/MOV 4:2:0 8-Bit
DCI 4K (4096 x 2160) at 23.98p/24.00p/25p/29.97p/50p/59.94p [360 Mb/s]
UHD 4K (3840 x 2160) at 23.98p/24.00p/25p/29.97p/50p/59.94p [360 Mb/s]
DCI 2K (2048 x 1080) at 23.98p/24.00p/25p/29.97p/50p/59.94p [360 Mb/s]
Full HD (1920 x 1080) at 23.98p/24.00p/25p/29.97p/50p/59.94p [360 Mb/s]
H.264 Long GOP/MOV/MP4 4:2:0 8-Bit
DCI 4K (4096 x 2160) at 23.98p/24.00p/25p/29.97p/50p/59.94p [50 to 360 Mb/s]
UHD 4K (3840 x 2160) at 23.98p/24.00p/25p/29.97p/50p/59.94p [50 to 360 Mb/s]
DCI 2K (2048 x 1080) at 23.98p/24.00p/25p/29.97p/50p/59.94p [50 to 360 Mb/s]
Full HD (1920 x 1080) at 23.98p/24.00p/25p/29.97p/50p/59.94p [50 to 360 Mb/s]
Gamma Curve
FUJIFILM F-Log, FUJIFILM F-Log 2
Recording Limit
Up to 90 Minutes
Video System
NTSC/PAL
Built-In Microphone Type
Stereo
Audio Recording
MOV: 2-Channel 24-Bit 48 kHz LPCM Audio
MP4: 2-Channel AAC Audio
External Video Capture
External Recording Modes
Raw 12-Bit via HDMI
6.2K (6240 x 4160)
IP Streaming

Yes
Interface
Media/Memory Card Slot
Slot 1: CFexpress Type B
Slot 2: SD/SDHC/SDXC (UHS-II)
Video I/O
1 x HDMI Output
Audio I/O
1 x 1/8″ / 3.5 mm TRRS Headphone/Mic Microphone Input on Camera Body
1 x 1/8″ / 3.5 mm TRRS Headphone/Mic Headphone Output on Camera Body
Other I/O
1 x USB Type-C (USB 3.2 / 3.1 Gen 2) Control/Data/Tether Input/Output (Shared with Power Input)
1 x 2.5 mm Sub-Mini Control Input
1 x PC Sync Socket (Sync) FlashSync Output
Power I/O
1 x USB Type-C Input/Output
Wireless
2.4 / 5 GHz Wi-Fi 5 (802.11ac)
Bluetooth
Global Positioning (GPS, GLONASS, etc.)
None
Monitor
| | |
| --- | --- |
| Size | 3.0″ |
| Resolution | 1,620,000 Dot |
| Display Type | Free-Angle Tilting Touchscreen LCD |
| Secondary Display | Top: 1.28″ LCD Status Display |
Viewfinder
| | |
| --- | --- |
| Type | Built-In Electronic (OLED) |
| Size | 0.5″ |
| Resolution | 5,760,000 Dot |
| Eye Point | 24 mm |
| Coverage | 100% |
| Magnification | Approx. 0.8x |
| Diopter Adjustment | -5 to +3 |
Focus
Focus Type
Auto and Manual Focus
Focus Mode
Continuous-Servo AF, Manual Focus, Single-Servo AF
Autofocus Points
Photo, Video
Phase Detection: 425
Flash
| | |
| --- | --- |
| Built-In Flash | No |
| Flash Modes | Auto, Commander, First-Curtain Sync, Manual, Off, Second-Curtain Sync, TTL Auto |
| Maximum Sync Speed | 1/250 Second |
| Dedicated Flash System | TTL |
| External Flash Connection | Hot Shoe, PC Terminal |
Environmental
| | |
| --- | --- |
| Operating Temperature | 14 to 104°F / -10 to 40°C |
| Operating Humidity | 10 to 80% |
General
Battery Type
1 x NP-W235 Rechargeable Lithium-Ion, 7.2 VDC, 2200 mAh (Approx. 720 Shots)
Tripod Mounting Thread
1 x 1/4″-20 Female (Bottom)
Accessory Mount
1 x Hot Shoe Mount on Camera Body
Dimensions (W x H x D)
5.4 x 3.7 x 3.3″ / 136.3 x 92.9 x 84.6 mm
Weight
1.3 lb / 579 g (Body Only)
1.5 lb / 660 g (Body with Battery and Memory Card)
Packaging Info
| | |
| --- | --- |
| Package Weight | 2.88 lb |
| Box Dimensions (LxWxH) | 7.3 x 7.1 x 5.2″ |